Energy Classes (see course descriptions in right-hand column)
Pranic Healing Level 1
with Miriam Smith

Saturday: May 2, 9am - 6:30pm
Sunday: May 3, 9am - 6:30pm
---
Location: Salem, NH
---
Fee: $400 $350 until April 9
Reviewers — $100
For payment, contact
Miriam via email.
Registration: go to this page.
---
---
The 2-day workshop teaches:

- How to sensitize the hands for precise healing.
- How to practice a powerful meditation and breathing techniques that cleanse and energize the energy body.
- How to understand energetic anatomy and use specific healing techniques.
- How to effectively perform energetic healing in-person as well as at a distance.
-Level 1 students learn how to use white prana.
- How to understand one's energetic impact on others.
- How to perform self-healing and healing of others.
- How to experience the energy field and use it to guide your healings.

Level I is a Prerequisite for all other Pranic Healing Classes
---
---
Teacher

Miriam Smith, MS Ed.
Certified Pranic Healer/Instructor
Pranic Healing Level 1: Basic
Learn how the body's energy system, the aura, health rays, and chakras affect the healing process.
Learn how to feel and see pranic energy in order to scan 11 major chakras and the aura.
Energetically determine your state of health.
Develop a meditation practice that increases your healing power and your energetic body.
Learn how to heal yourself and others.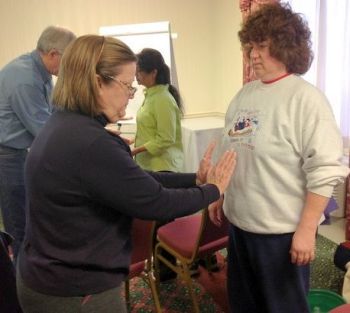 The curriculum includes teaching —
-- self-scanning and self-healing
-- how to heal mild and more severe stress
-- how to heal simple ailments such as a wound or pain
-- how to heal more complex ailments
-- how to maintain physical and emotional balance
-- how to maintain the integrity of your own energy
-- system when around unhealthy or stressed people
-- how to maintain energetic hygiene as a healer
-- powerful breathing techniques
-- remote healing
Practice protocols for —
-- respiratory system
-- digestive system
-- circulatory system
-- immune system
Pranic Healing Review for Level 1
Brush up on Pranic Healing Techniques!
Review and Practice:
* Techniques to reap the most benefit from the
Meditation on Twin Hearts
* Clarifying Concepts
* Scanning
* Cleansing
* Energizing
This class is open only to those who have completed at least Pranic Healing Level 1.
Location
North Andover, MA
Contact
Miriam
for more information
---